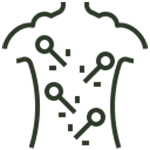 Dry needling is a safe and effective method of treatment provided at Aim Therapy & Wellness Centre to reduce pain and muscle tension, while simultaneously improving mobility. It has been proven to treat numerous musculoskeletal issues, including acute and chronic injuries, overuse injuries, neck pain, headaches, back pain, sciatica, muscle spasms, muscle strains, tendinitis, knee pain, hip pain, fibromyalgia, tennis elbow, golfer's elbow, and more.
Why should I choose dry needling?
There is a large variety of musculoskeletal issues that can be treated with dry needling. When paired with our traditional exercise-based physiotherapy treatments and advanced manual therapy techniques, we have found that the vast majority of our patients achieved the pain-free goals they were aiming towards.
After conducting a comprehensive evaluation to assess the nature of your condition, our Toronto physiotherapist will let you know if dry needling is the best course of treatment for you. We have used dry needling to treat several diverse conditions, from chronic pain sufferers to athletes experiencing delayed onset muscle soreness.
This treatment method is used by our licensed Toronto physiotherapists as a way to relieve pain. When performing dry needling, our physiotherapist will insert a sterile needle through the skin, into the underlying tendons, ligaments, or muscles that have been affected, in order to relieve pain, decrease muscle tension, and improve mobility.
While it is a common misconception, dry needling is not acupuncture. It is based on a modern scientific study of musculoskeletal and neuromuscular systems. While there are some similarities, dry needling is strictly based on Western medicine principles and research. It provides an environment that enhances the body's ability to heal, ultimately reducing pain in the process.
Dry needling can speed up recovery time and allow you to return to your daily life as quickly as possible. If you are in Surrey and want to know more about our dry needling services, don't hesitate to request an appointment at Aim Therapy & Wellness Centre today. We'll get you started on the path toward recovery!
Feel Something Wrong With Your Bones?
Aliquam ex nibh, rhoncus quis mi nec, imperdiet mattis est. Suspendisse potenti duis fringilla massa at rhoncus.
Excellent. Alexandra was the physiotherapist I worked with & I am honestly not sure if I would have gained as much of mobility back as quickly as I did had it not been for her expertise. I would highly recommend her to anyone who asked!
My experience with Aim Therapy has been great. Ali is a very knowledgable professional and helped me understand what was happening with my injury and how to get better. Great conversation too 🙂 Highly recommended!
Wonderful experience throughout the entire appointment and process! Extremely high level of professionalism and I'm grateful to have seen Ali for treatment! Already booked my next session!